Sri Surya Pahar, also known as Sri Surjya Pahar a site famous for archaeological remains, lies in the Goalpara district. Composed of 7 (Seven) peaks, spanning over an area of approx. 1400 acres (583.33 Hec)., which is located about 13 Kms away from Goalpara town, on the western side. Because of its archaeological importance, the Archeological Survey of India (ASI) has protected this site of National Importance. It is also a historical site famous for its terracotta, wonderful and exquisite pieces of rock-cut sculpture depicting deities of Hinduism, Buddhism and Jainism. This combination is a rare phenomenon.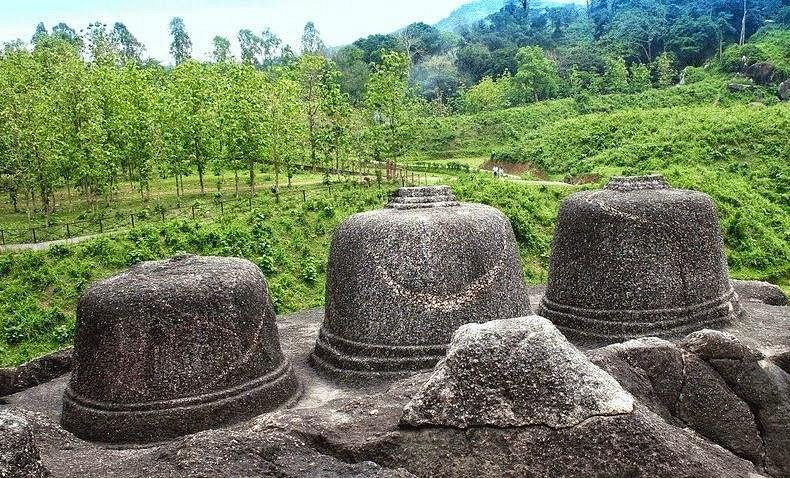 One can get a panoramic view of the Brahmaputra and the confluence of the Dudhnoi and Krishna rivers near Ujir's Char village in the northern direction from the Suryapahar. In this site innumerable statues and engraving of idols, Shivalings caressed by streams, Stupas- some as tall as four feet and Caves are found. The ASI started excavation in the site in 1984 and unearthed rock- Votive Stupas on a giant single rock, lord Vishnu with twelve hands, Goddess Durga (Mahisasuramardini), rock cut panel of Vishnu, Hari Hara, Lord Shiva, Jain Tirthankaras, Panchyatna Temple Complex, Water Reservoirs, the existence of well constructed pucca structures among others. The excavated sites are believed to be of Post-Gupta Era. As per popular belief, there exist one less than a lakh Shivalingas in total in Surya Pahar, which tragically fails it to claim the place as Kashidham! However, Suryapahar may be considered the second Kashidham.
An ancient Hanuman Temple exists near Surya Pahar and contains ancient idols. A great Mela "Sri Sri Surya Mela" is held every January at the Suryapahar site for three days, starting on Maghi Purnima day. Thousands of devotees and visitors throng there during the period. Visitors from other places including foreigners, visit this famous archaeological site.
According to tradition, the name Sri Suryapahar was derived from the image of Surya Devata (The Sun-God). It is the only site in the entire North-Eastern region where people and the monarchs of the ages belonging to different faiths had perhaps enjoyed a common platform for worshipping their own Gods and Goddesses and Avatars.